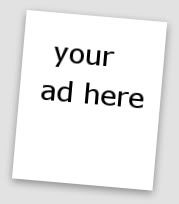 After careful consideration, I have made the decision to open up my blog to private advertising. To celebrate this decision,
I'm offering a special deal for the month of February!
I'm offering a three-month package that includes a sidebar ad with a link to your site, a post write-up about your business, and a giveaway from your company — all for the discounted price of $50.00.
I will also promote your business on Facebook and Twitter.
This special offer will run through the month of February.
Please click
here
to find out more about my advertising policies and to contact me.