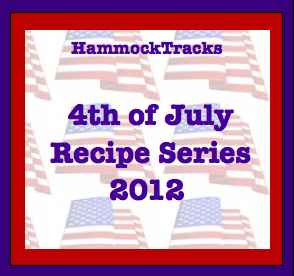 If you're hearing fireworks, it's because today is the Kick Off of the

4th of July Recipe Series

sponsored by Savannah of Hammock Tracks. Appropriately, we are starting off with the star of the show -- the beloved American hamburger!
I'm going to start with a bang, by sharing a recipe that my husband and I have loved since the early years of our marriage. Yes, this time-tested recipe is a true family favorite -- Cheese Stuffed Burgers Wrapped in Bacon. These hearty burgers will be sure to please everyone who gathers around your grill on the fourth!
about 1/2 pound of lean ground beef per person
1 slice of bacon per person
1 slice of cheese per person
Lipton onion soup mix (or homemade alternative)
1. First mix your onion soup mix into your meat. You need about 1 packet of the Lipton's onion soup mix per about two pounds of ground beef. You can also add a sprinkle of Worcestershire sauce, if you like. Mix together with hands and then form into thin patties. Strive for about 1/4 pound in each patty.
2. Lay your hamburger patties on a baking sheet and top with wax paper before stacking.
3. When all of your patties are ready, lay a small slice of cheese on top of each hamburger patty. You could use classic American cheese, but that is too processed for me. I use slices of colby or cheddar, but you could also use cheddar jack, Monterey jack, swiss, meunster -- it would all be delicious!
Now lay a second patty on top of the cheese and use your fingers to seal the edges together, keeping the cheese tucked inside.
4.
Now, wrap a strip of bacon around the outside of each hamburger, securing with a toothpick.
5. Then grill to desired doneness. I made these yesterday, and thanks to Tropical Storm Debby, grilling just wasn't going to happen! So, if it rains on your picnic, don't despair -- these are also good cooked on the stove or in the oven! After all, resourcefulness is part of the American spirit!
ENJOY! :)