I hope you've been enjoying our 4th of July Recipe Series!

I know I have!
Welcome back for day four!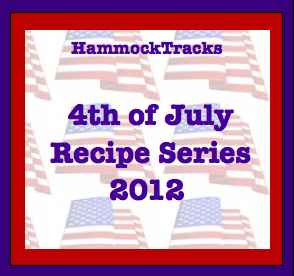 Today's menu item is ice cream! What would the 4th of July be without ice cream??? :)
If there is one thing our family is famous for, it is our passion for big bowls of ice cream! The kids got it totally honest! Can you keep a secret?! If so, I'll show you their Dad's special ice cream bowl!!!
Yep, now you know that we take ice cream seriously around here!!! ;)
So, this should be an easy topic for me, right??
Wrong!
I couldn't seem to zero in on what to share for the ice cream portion of our menu. In times past, we used to make a delicious churn of homemade vanilla ice cream for special occasions, and I thought about sharing that recipe . . . but we haven't made it in a long time, and I certainly wasn't going to lug the churn out today and make homemade ice cream! And what is a post about ice cream without any pictures?? (It's about as bad as a post about ice cream without any tastes!) ;)
Finally, I decided to make something yummy that contained ice cream! This is what I ended up with:
A peanut butter milkshake!!
We are also a family that loves our peanut butter -- so this was a stroke of genius! :)
It is also quick and easy to make -- no ice cream churn necessary! :)
Here's what you do:
In a blender, combine:
1 cup whole milk
2 1/2 to 3 cups vanilla ice cream (I used Publix brand)
1/2 cup peanut butter (I used Jif Natural)
2 TBSP sugar (optional)
Cover and blend for 30 seconds or until smooth. Stir if necessary, and blend again.
Pour into chilled glasses; top with whipped cream; garnish with a sprinkle of mini chocolate chips; and drink immediately, if not sooner! ;)
(Makes 3-4 servings.)
Yes, it was a fabulous choice! No red, white or blue -- just cold, creamy goodness in a glass!
Now, go ahead and chill your favorite ice cream bowl, and then come back here and check out the rest of the July 4th Ice Cream Recipes!