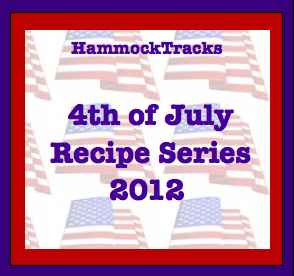 Welcome back for the second day of our 4th of July Recipe Series! Today the focus is on vegetables, because we all know that we can't just serve hamburgers! We need to round out the menu with some delicious sides, and a tantalizing dessert, of course, but stick with us, because desserts are coming up! ;)
Since summer squash is so prolific this time of year, I'm going to share a recipe that will use up the abundance from your garden (or a friend's garden!). I was blessed with a nice bag of yellow squash from my parent's garden, which I used to make my featured dish -- Stuffed Summer Squash.
Here are the directions:
1. Boil 6 small yellow squash in salted water until fork tender. Drain and let cool. (Note: I doubled this recipe for my crowd, so don't be alarmed when you see a whole sea of squashies swimming in the water!) ;)
2. Cut each squash in half lengthwise.
3. When cool enough to handle, carefully scoop out insides of each squash with a spoon.
4. Put scooped out "squashy stuff" in a bowl and add some garlic salt and pepper, about a Tablespoon of butter, 1 egg, 1/4 cup finely chopped onion, 1/2 to 1 cup grated sharp cheddar cheese, and 1/2 cup or more bread crumbs or cracker crumbs. (Crushed saltine crackers make the best texture, but I didn't have any, so I used some whole wheat bread crusts whirled in the food processor.) You could also add a dollop of sour cream, if you like. (All measurements are approximates.) Mix together well, adding bread crumbs until desired consistency is reached.
5. Spoo
n mixture into scooped-out squash shells. Sprinkle tops with bread crumbs or grated cheddar cheese. (Really, you can never use too much cheese!) :)
6. Bake at 350 degrees for 20 to 25 minutes or until squash is hot and the stuffing is set.
7. Enjoy!
Note: If you are feeling a bit too lazy or pressed for time to tackle the stuffed squash, you could just make my Fabulous Squash Casserole instead!