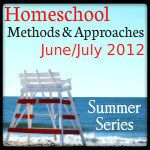 If you are currently homeschooling or considering homeschooling, you know that there are many different educational approaches available, each with distinct advantages and disadvantages. Home education is far from a "one-size-fits-all" endeavor. Rather, it comes in a variety of styles and flavors, which can make choosing the right method for your family as overwhelming as choosing what flavor of ice cream to get in an ice cream shop! Fortunately, as with ice cream, you can take a scoop of this and a scoop of that, and combine flavors into your own delicious concoction!
So You Call Yourself a Homeschooler has been exploring the many different faces of home educating with her Homeschool Methods and Approaches Summer Series, which features a different homeschooling method every Monday, Wednesday and Friday in June and July. Clicking on the button above will take you directly to the series, where you can meet a variety of homeschoolers and learn about their different perspectives on education.
I'd love for you to read my story, which was featured on Friday, June 22nd, where I shared about our homeschooling journey and why we chose to change approaches and turn to Distance Learning Online to meet our family's needs.
As a veteran homeschooler of 22 years and the mother of ten children (ages 27 to 7), I've employed a variety of different educational approaches through the years. As a result, I've come to the conclusion that there is no one right way to homeschool. Instead, the ideal option will vary based on the needs of the teaching parent, the needs of the children, and the current season of life.
Read more:
http://www.soyoucallyourselfahomeschooler.com/category/homeschool-approachesmethods-series/#ixzz1ybqx0h00