It's hard to believe that today is the last day of our 4th of July Recipe Series! I hope you've discovered some awesome new recipes to help you celebrate our nation's Independence Day with your family and friends.

(I know this is supposed to be light-hearted and fun, but I can't help but feel heavy-hearted when I think of our great nation, which has carried the idea of "independence" a bit too far, and has cast off the "shackles" of dependence on God and is floundering in the muck and mire of man's wisdom. Please take some time to pray for the future of our country, even as you prepare to celebrate its beloved history.)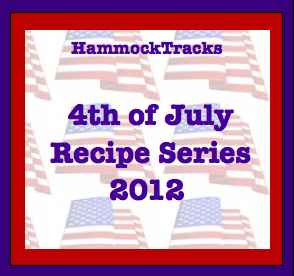 We are finishing off the series today with some festive drinks to refresh and re-hydrate. Today's post is very timely as we all struggle to endure this heat wave that is sweeping the nation.
I couldn't decide which drink to share, so I'm going to share two!
Drink #1 -- Strawberry-Limeade Tea
First I want to share this lip-smacking recipe for Strawberry Limeade Tea.
You will need:
3 cups sliced strawberries
1 cup sugar
4 large limes, peels removed as much as possible
about 5 cups unsweetened iced tea
1. Add sugar to strawberries in a bowl and let sit for about 30 minutes at room temperature.
2. Dump strawberry mixture into a blender or food processor; add limes. Blend until smooth. Press mixture through a wire-mesh strainer into a 2-quart pitcher, using back of a wooden spoon to squeeze out juice. Discard solids.
3. Add about 5 cups of unsweetened tea to pitcher, stirring until blended. Cover and chill for at least two hours before serving.
Yield: 2 quarts
Variation: Omit tea. Fill blender half full with strawberry-limeade mixture; fill up rest of way with ice; Blend! Voila! You have a Strawberry Limeade Slushie! Delish! ;)
Drink #2 --
Lemonade in a Jar
1 dozen pint-size, wide-mouth canning jars and lids
3 cups lemon juice concentrate
Add 4 TBSP lemon juice concentrate.
Stir to dissolve sugar. Fill jar with cold water, and stir until well blended and all sugar is dissolved.
Garnish with lemon slice(s).
Screw on lids and chill for at least two hours or overnight.
You could serve jars of lemonade in a tub full of ice, like this:
Serving Option: When preparing for a crowd, you could make some of these jars with Splenda or Stevia and label accordingly, so each guest could grab a jar of lemonade made just the way he or she likes it! <3
Stay cool and enjoy your 4th of July! :)