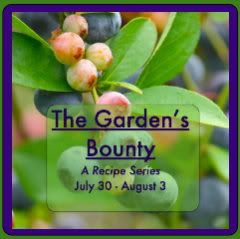 Today is the first post in a five-part recipe series, "The Garden's Bounty," which is being hosted by Savannah of
Hammock Tracks
. Five different bloggers are linking up each day this week and sharing recipes that take advantage of the delicious fresh fruits and vegetables that are readily available during the summer season. So, make sure you check back every day to discover some great summer recipes! Here's the line up:
Monday – casseroles or hot savory dishes
Tuesday – salads
Wednesday – soups, or chowders
Thursday – preserves, pickles, salsas, etc
Friday – Sweet Desserts
Of course, we are all looking forward to Friday for the sweet finish!! ;)

Today, I'm sharing a recipe that came from my Mom, along with my tweaks! I sometimes call this Pat's Low Carb Stew, because this is an excellent recipe for those who are limiting their intake of starchy carbs. It is also a fabulous dish for using up an abundance of ripe bell peppers, zucchini and okra from your garden.
This stew is satisfying, nutritious and colorful, and something my whole family will eat. My children like it better when I serve it with some yummy yeast rolls and I often make rice to eat with it. (Obviously, those who are limiting their carbs would want to skip the additional bread or rice, but I have some whoppin' boys to fill up!) My
buttery cornbread
is also a perfect companion for this savory, summer supper!
Summer Garden Stew
Ingredients:
2 lbs. ground chuck
2 sweet onions, cut into 1" pieces
2 bell peppers, preferably red, yellow or orange, cut into 1-1 ½ " pieces
1 pound fresh okra, sliced or 1 bag frozen (not breaded)
2 small zucchini, cut into 1" chunks (optional)
4 cans diced Italian-style tomatoes*
1 TBSP oregano, or to taste
1 TBSP basil, or to taste
2 TBSP fennel seed, or to taste (I've never added this)
8 oz. mushrooms, sliced (optional)
Directions:
1. Brown meant in large saucepan, leaving in medium-sized chunks. Drain and set aside.
2. Pour a little olive oil into pan (or use fat drained from browning the ground beef) and add peppers, onions, and garlic. Saute until nearly tender, 2-3 minutes.
3. Add okra, zucchini (if using), tomatoes, and spices.
4. Bring to a boil; simmer for 30 minutes or so.
5. Add mushrooms and simmer 10-15 more minutes and serve.
*Note: Use home-canned tomatoes or Hunts brand, as Del-Monte has high fructose corn syrup added! If using a store brand, check label for added sugar or HFCS.