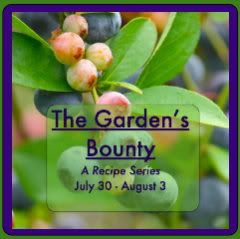 Welcome back for day 5 of the five-part series, "The Garden's Bounty," which has been hosted by Savannah of
Hammock Tracks
. Five different bloggers have been linking up each day this week and have shared a vast array of recipes that use the delicious fresh fruits and vegetables that are available during the summer season. I hope you have enjoyed this series and have discovered some great new summer recipes! Today we are ending the series on a sweet note by sharing recipes for our favorite summer desserts.
As you may remember, we were blessed to be able to
pick blueberries a couple times this summer,
so I've been looking forward to sharing our favorite blueberry recipe with you. This was especially a hit with my husband, who has mentioned it several times!
Blueberry Pound Cake
Ingredients:
1 cup butter softened
3 cups sugar
6 eggs (brought to room temperature for best results)
1 teaspoon vanilla extract
3 cups all-purpose flour
1/4 teaspoon baking soda
1 cup sour cream
3 cups fresh or frozen blueberries
confectioner's sugar
Directions:
1. Preheat oven to 325 degrees. Grease and flour a tube pan or bundt pan.
2. In a large bowl, cream butter and sugar until light and fluffy.
3. Add eggs one at a time, beating well after adding each one. Add vanilla.
4. Combine flour and baking soda; add to creamed mixture alternately with sour cream.
5. Fold in blueberries.
6. Pour into prepared bundt pan and bake at 325 degrees for 1 hour and 15 minutes, or until a toothpick inserted near the center comes out clean. Cool for at least 10 minutes before removing from pan.
7. When cool, sprinkle with confectioner's sugar or make a basic glaze and drizzle over cooled cake.
8. This is delicious served with a dollop of whipped cream (not Cool Whip!) or a scoop of vanilla ice cream!