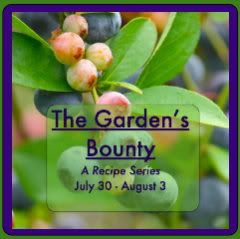 Welcome back for day 3 of the five-part series, "The Garden's Bounty," which is being hosted by Savannah of
Hammock Tracks
. Five different bloggers are linking up each day this week and sharing recipes that take advantage of the delicious fresh fruits and vegetables that are readily available during the summer season. So, make sure you check back every day to discover some great new summer recipes! Today we are sharing recipes for a summer soup or chowder.
I'm sharing a recipe that I created just last night! We have drained the grocery budget dry this month and are down to the dregs! With the odds and ends that are left in the pantry and fridge, it requires a great deal of creativity to pull together a meal, especially when one needs to make a recipe that is blog-worthy! But, that is Real Life -- we all have times when we need to pull together a meal from what we have on hand. That ability to be creative with ingredients defines a true chef! :) So, with that introduction . . . . here is my recipe for Shrimp and Sausage Bisque!
Shrimp and Sausage Bisque
First, I sliced a bunch of green onions and diced some garlic cloves that I found in the refrigerator.
Then, I sauteed my veggies in some bacon drippings that I had reserved in the refrigerator from a few weeks ago. (I really wanted some bacon for my creation, but didn't have any.) While searching the deep freeze for a forgotten package of bacon, I found a package of Italian sausage and decided to use that instead! So, I thawed it in the microwave and sliced it into chunks, which I then added to my soup pot withe the veggies and cooked until no longer pink.
Meanwhile, I boiled this shrimp that I found in the freezer and removed the tails. I now wish I had sauteed the shrimp in butter and kept the tails on! Why? Because I read this a few minutes ago:
Traditional

bisque

begins with sauteing seafood in a heavy pan. If crustaceans are being used, the shells are left on. Next, a broth is made in the pan by combining wine and soup stock with aromatic spices, and the seafood is simmered until it is cooked through. The entire mixture is pureed, including the shells of the crustaceans. After being pureed, cream is added and the soup is cooked and allowed to thicken even more before being served, usually sprinkled with parsley and freshly cracked pepper. (source)
Then, I cut up a few little yellow squash I found languishing in my fridge and added them to my soup pot along with a quart of homemade chicken stock from my freezer and about a quart of water. When the squash was tender, I added my shrimp.
I then sauteed some sliced mushrooms in butter and added them to my soup, along with some salt and pepper and about 1 teaspoon of Italian seasoning. I finished off my creation by adding a quart of half and half and heating it on medium-low heat until heated through. Then it was time to serve up the soup and "sell it" to my family! :)
Did they like it?? Yes, they did! :) But, they liked these even more!!!
Hannah made some of her delicious,
Garlic Cheese Biscuits
to accompany my bisque! It was a match made in heaven! :)
This would have been a perfect meal with a big tossed salad . . .but it was good just as it was!
After eating a late dinner, we gathered in the family room to watch the Olympics. Then, Tay called to ask what I had served for supper and see if it was OK for him to bring home a couple friends from his Bible Study to grab a bite to eat! I said, Sure . . . but this is what I made and I'm not sure there is enough left, but y'all can divvy it up! Well, the guys loved it! Yes, I admit they were a bunch of hungry, college guys, desperate for any home cooking -- but they gobbled down the rest of the soup and biscuits and declared it to be Awesome! :)