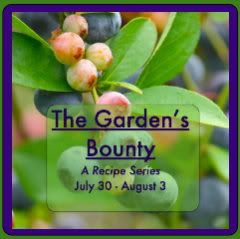 Welcome back for day 4 of the five-part series, "The Garden's Bounty," which is being hosted by Savannah of
Hammock Tracks
. Five different bloggers are linking up each day this week and sharing recipes that take advantage of the delicious fresh fruits and vegetables that are readily available during the summer season. So, make sure you check back every day to discover some great new summer recipes! Today we are sharing recipes for preserves, pickles, or salsas.
My sister is known for her delicious salsa, which she makes and cans every summer, and I thought about asking her if I could share her recipe. However, I bravely decided to create my own salsa experience, and it ended up being fantastic, if I do say so myself! ;) This recipe is a great way to use up some of the abundance from your garden; but, if like me, you don't have a garden, a trip to your local farmer's market should enable you to create this delicious salsa.
Elizabeth's Sweet and Spicy Salsa
6 medium vine-ripe tomatoes, chopped
1 large bell pepper, chopped (I used yellow)
1 large sweet onion, chopped (Vidalia is the best!)
3 or 4 cloves garlic, minced
1-2 jalapeno pepper(s)*, diced (discard seeds and pulp)
1 zucchini (or cucumber), chopped
1 bunch cilantro, chopped
1/4 cup olive oil
1/4 cup lime juice (or vinegar)
1/4 cup sugar
1 teaspoon salt
1 teaspoon cumin
Rinse and prepare all vegetables; then finely chop or dice. I chopped mine by hand for a chunkier salsa, but you could also chop some or all of your veggies in a food processor. Just be careful not to over-process, unless you want a "saucy" salsa vs. a chunkier one!
*Note: When cutting jalapeno peppers it is suggested that you use plastic gloves to protect your skin from the hot oils of the pepper. However, I didn't have any plastic gloves, so how do you like this creative substitution? I just inserted my hand into the produce bag and made myself a makeshift plastic glove! :)
Hannah caught me laughing about something funny that one of my kids said! I thought you might enjoy seeing this crazy picture of me! ;)
After chopping vegetables, put them in a large bowl and set aside. Whisk together olive oil, lime juice or vinegar, sugar and spices and pour over vegetables. Mix together and chill for 30 minutes or a few hours to let flavors blend together.
Serve over grilled chicken or with Tostito Scoops. My sons loved it! :)