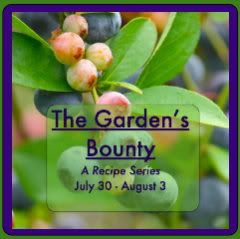 Welcome back for day two of the five-part series, "The Garden's Bounty," which is being hosted by Savannah of
Hammock Tracks
. Five different bloggers are linking up each day this week and sharing recipes that take advantage of the delicious fresh fruits and vegetables that are readily available during the summer season. So, make sure you check back every day to discover some great new summer recipes! Today we shine the spotlight on one of summer's "star players" - Salads.
I'm sharing a deliciously different salad recipe today, which I originally enjoyed at my sister's house. I had never before eaten Bok Choy, which is a type of Chinese cabbage, and probably wouldn't have tried it on my own, so I think my sister for expanding my palate! This is her recipe, with my tweaks! :)
Bok Choy Salad
1 pkg. Ramen noodles, broken in pieces
1. Rinse and chop bok choy and green onions; place in serving bowl.
2. Saute almonds and Ramen noodles in butter, stirring constantly, until browned.
3. Mix together all dressing ingredients in a jar; shake well.
4. When ready to serve, toss Bok Choy and onions with Ramen noodle topping and dressing. Serve immediately.