Welcome back to
Marriage Monday
! I hope you had a chance to read my post from last week on what our faces say about our husbands. If you missed it, you can read it here. Several said they were planning to take my suggestion and watch the faces of wives around them as they looked at their husbands. I hope that was eye-opening! The greatest blessing for me as I did this was watching the face of my pastor's wife on Sunday while her husband (our pastor!) sang the special music. Her face was glowing with love, joy, admiration and praise to our God! The song was very moving to our fellowship of believers, and the look on her face only enhanced the message of his song!
Shouldn't that be the way it is every day? The way we look at our husbands should enhance "the song they were designed to sing."
When our husbands share something with a group of people, especially if they happen to be the ones behind the podium, imagine how our attentiveness, admiration, and non-verbal agreement with what they are sharing can not only encourage their confidence, but promote their message and validate it in the eyes of those around us!
How did you do this week with our Challenge? Did you
look for the good in your husband? Did you focus on the praiseworthy, notice his virtues, and let your face reflect your love and admiration for your amazing husband? I hope so!
If you had trouble with this assignment, let me suggest something that might help. You might need to change out the lenses you are using to look at your husband!
Ever noticed how young couples in love look at each other through rose-colored glasses?? They seem oblivious to the faults that the rest of us see quite plainly! However, some time after they are married, it's not uncommon for them to change lenses and start looking at each other with a magnifying glass! Suddenly all of their mate's faults are glaringly obvious!!
May I suggest we flip-flop that practice?? For those of you who are still single and looking for "Mr. Right" or those of you who are in a relationship and wondering if "he's the one," now is the time to bring out the magnifying glass! Don't gloss over any faults or short-comings -- these will only be magnified once you are married! Please don't ignore red flags!! Most women in very bad, abusive marriages had indications of what was to come -- they just ignored the warning flags!
However, if you are married, put away your magnifying glass (or give it to a single woman you know!) and put on your rose-colored glasses! Look at your husband through eyes of love and eyes of grace!
Ready for a challenge?? Let's trade in our magnifying glasses for rose-colored glasses! :) Let me know how this simple lens change affects your view of your husband!
Your Turn to Share:
Have you traded in your magnifying glass and learned to quit focusing on your husband's faults? Have you donned a pair of rose-colored glasses and learned to look for the good in your man? Please
share by leaving a comment here or over on my Facebook page, so we might all be encouraged and built up as wives!
Also, would you do me a favor? My blog was chosen as one of the Top 25 Moms with Big Families Blogs for 2012, and has been nominated again for 2013. I'd really love to be in the Top 25 again this year! :) You can help me by voting for my blog here. You can vote again once every 24 hours until the contest ends on July 24th. Thanks so much for your support! :)
If you were blessed or encouraged by this post, please consider sharing it with your friends on Facebook or other social media sites. Thank you!
Link up:
I'd love to have you link up your blog to mine! Please link up any past or present posts related to Christian marriage.
Don't forget to link back to my blog! Thanks!
Blogs I link up with from week to week: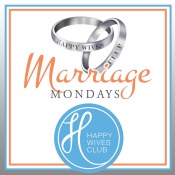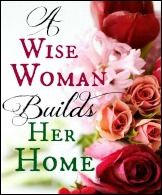 http://judithwholeheartedhome.com/wholehearted-wednesday-linkup/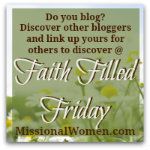 Please link up your blog post on marriage below by entering the url of your specific post. Where it says "Your Name" enter the title of your blog post, not your personal name! Thanks! :)