Welcome back to
Marriage Monday
! I am still here at my parent's house in South Carolina, where I have been helping out during what we thought were my Mom's final days. Amazingly, the Lord has raised up my Mom for an undetermined amount of time, and we are enjoying each day of "extra time" that we have with her!
Last week I explored ways to build up your marriage even during a crisis. There are many types of crises that couples might encounter, as they navigate the storms of life together. Many times these trials tear marriages apart, as couples lash out at each other instead of clinging to one another and to the Lord during troubled times.
I hope to continue to explore this theme over the course of the next few weeks. If you have a marriage that has survived a fiery trial, such as, a
debilitating illness, the death of a parent or a child, deep depression, infidelity, loss of a job, loss of a house, financial reversals, infertility, a rebellious teen, etc., I would love to hear from you! Please email me at elizabeth@yestheyareallours.com with your story! I plan to feature different stories in the coming weeks!


Today, I'm featuring the testimony of Erica who shares her life at
www.theministrymama.com
, and her helpful suggestions for maintaining your marriage during a crisis:
Nine years does not seem like a long time to be married, unless you've been through many trials and difficult circumstances like we have. I certainly relate when people say, "We've only been married for a few years, but it sure does feel like a lot longer." And I also relate to those that say, "We've been married for a long time, but how have the years gone by so quickly?"
Let me tell you a little about some of the experiences we have faced in the past 9 years:
We ran away and got married! Gasp! I know! It was a hard time, because we dropped out of college to do it. We made our decision on a Tuesday, and we were exchanging our vows on Saturday. It was September 11th. Yes, it was a 9-11 emergency for us to get married. Looking back, that was not the way to get started, but hey, here we are to live and tell about it.

My husband experienced two job losses during our first year of marriage before he finally landed a steady job.

Two months after we were married, my husband bumped an iron over onto a dress shirt he was ironing and walked out of the room. We lost our apartment and almost everything inside to a huge fire. Thank the Lord for the renter's insurance we had only had for a few weeks.

Before we blinked our eyes, we had two little boys, 18 months apart. They are now 7 and 6.

My husband went back to college to finish his degree and worked a full-time job throughout those years, leaving us with little time for one another and our new little family, as his "free time" was filled with homework and sleep.

I think we moved three or four times in our first five years of marriage... moving is always stressful!

We finished our final year of college together, which meant even less time for one another, because we both had homework to do. But we have our diplomas and a lot of people to thank for helping us reach our goal of completing what we started.

After graduation, we moved again to our first ministry position and began a busy life of full-time ministry dealing with people, busy schedules, etc.

In the process, two beautiful daughters have joined our family and I am now homeschooling.
God never promises that our lives or our marriages will be stress free. He allows every circumstance that comes into our lives. He knows full-well what we can handle and what we cannot. Many of our stresses were created by our first choice to run away and get married, but we worked through each day, and my husband and I are so thankful to still be together.
Here are some things we have done to strengthen our marriage:
We have been faithful to attend church services together.

Being faithful to God and His house is one of the greatest things we have done for our marriage and our family. Listening to and learning from the preaching of the Word of God at church may be all of the counseling you ever need. So many times when we wanted to quit, God spoke directly from the sermons to our hearts. Another reason for going to church is to be around God's people for fellowship. Talking with others can help struggling married couples get Biblical advice or get their minds off what's going on at home.
Maintaining our personal walk with the Lord.

If your vertical relationship with God is not right, then your horizontal relationship with your husband (and others) cannot be right either. Daily devotions and prayer time can never be stressed enough. God speaks to our hearts through our Bible reading and we speak to God through our prayers. If we are working to be filled by God and keeping a clean heart before Him, then it will make our relationship with our spouse easier.

We have taken time to communicate.

When we lived on few minutes together because of my husband being in college and working, some days he sacrificed precious sleep to talk to me and listen to me. Now that we are in ministry working a very busy schedule, sometimes we have to pause for an hour or two and explain to each other how we're feeling and what is going on. We cannot minister to one another if we do not know what's going on in the other person's life. And while my husband sacrificed his sleep sometimes, there are some days where you need to allow each other rest before you communicate so that you are less apt to misunderstand one another or fight.
Do everything together.


That was the advice that my husband's grandparents, who have been married for 54 years gave us. It sounds a little far-fetched at first, but it works! If you do not have a lot of time then wash the dishes together, then get your kids ready together to go to bed, then when all of the work is done, you can sit down together and spend your time. This advice is good, because during trials people have a tendency to separate from one another and find comfort in external things instead of their spouse. Wedges in the heart will drive you apart. You know what the wedges are in your life, just do your part to repair them and begin doing more things together.
I am not a marriage expert. I have had to exercise my faith and work each day to make it a good marriage. God gets all the glory and praise for these past nine years. I encourage you if you are going through trials, to make conscious decisions to be faithful to God first and then each other. God will help you and enable you to endure so that in time you will be able to look back and say, "Whoa!? Have we really been married that long?"
The
Ministry Mama
Erica blogs at
www.theministrymama.com,
where she encourages women in the ministry in the areas of family, marriage, and ministry.
Your Turn to Share:
How have you and your husband demonstrated your commitment to each other and to God during the rough times? How have you strengthened your marriage during the storms? I'd love to hear your story! Please
share by leaving a comment here or over on my Facebook page, so we might all be encouraged and built up as wives!
If you were blessed or encouraged by this post, please consider sharing it with your friends on Facebook or other social media sites. Thank you!
Link up:
I'd love to have you link up your blog to mine! Please link up any past or present posts related to Christian marriage.
Don't forget to link back to my blog! Thanks!
Blogs I link up with from week to week: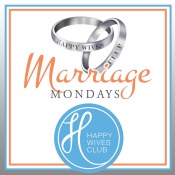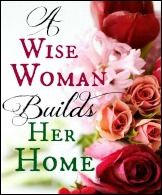 http://judithwholeheartedhome.com/wholehearted-wednesday-linkup/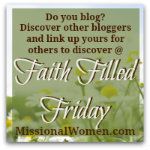 Please link up your blog post on marriage below by entering the url of your specific post. Where it says "Your Name" enter the title of your blog post, not your personal name! Thanks! :)