Welcome back to
Marriage Monday
! I hope you are enjoying my series of posts on
how to build your marriage during a crisis
. There are many types of crises that couples might encounter as they navigate the storms of life together. Many times these trials tear marriages apart, as couples lash out at each other instead of clinging to one another and to the Lord during troubled times.
If you have a marriage that has survived a fiery trial, such as, a
debilitating illness, the death of a parent or a child, deep depression, infidelity, loss of a job, loss of a house, financial reversals, infertility, a wayward child, etc., I would love to hear from you! Please email me at elizabeth@yestheyareallours.com with your story! I plan to feature different stories in the coming weeks!
Today I am really blessed to be able to feature the amazing story of Amy Roberts from Raising Arrows.
I didn't walk down the aisle expecting heartache. No one ever does. Yet, when
our 5th child died
from complications of malrotation of the intestine, we were suddenly plummeted into the worst thing our marriage had ever faced.
Grief isn't pretty and there isn't a handbook on grieving. Everyone does it differently and everyone must find their own way out. But when you are married, you somehow have to find your way out...together.
Shortly after Emily's death, I was told that nearly 75% of married couples divorce after a child's death. Even though I found out later those numbers are grossly exaggerated and tend to be more like 9-16%, I still found myself worrying that figure would somehow touch us. Yet, as we walked this road, I realized with the Lord guiding us through our heartache, we would come out on the other side stronger. Today, I want to share with you what I've learned from God's Word and wisdom concerning weathering the loss of a child as a married couple.
First, let's talk about
blame
.
People need someone to blame for a tragedy
. They want to believe they could have done something to prevent it if only certain circumstances were different. And often what they think should be different is what another person's role was in that event.
No matter how "faultless" a tragedy is, somehow we are still able to see places where we could blame others. My husband and I could have blamed doctors, or small town hospitals, the med-flight crew or each other. We could have found something anywhere we looked that we could have chosen to focus on rather than God's sovereignty. You see, when we choose to blame another, we choose to question God's sovereignty. Yes, doctors do make mistakes. Yes, some tragedies are the direct result of someone else's actions or inactions, but Romans 8:28 says,
And we know that God causes all things to work together for good to those who love God, to those who are called according to His purpose.
If I had chosen to lay blame, I would have been telling God He didn't know what He was doing. I would have chosen to put up a wall between myself and my husband and between myself and God. I would have ended up walling myself in with bitterness and blame, dwelling where I could see nothing but the bad.


We do not know the mind of God and spending time blaming our spouse will only lead to a bitterness that will eventually eat us and our marriage alive.
When any tragedy strikes, we must ask the Lord every day to reveal to us His perfect will in our tragedy and choose to honor and glorify Him in it all.
There is also the stress that losing a child brings. Stress just happens. It sneaks up on us, fills every crevice of our lives, and eventually wears us down. Stress is debilitating. It can cause us to stare at walls for hours, sleep for hours, and totally neglect everything else beyond our own thoughts. It causes headaches and tension and it never, ever seems to stay contained. More often than not, stress spews over and out onto those we love the most. So, while stress is a natural result of a tragedy of this nature, the outward expression of it is rarely a good thing.
Philippines 4:6 tells us:
Be anxious for nothing, but in everything by prayer and supplication with thanksgiving let your requests be made known to God.
The answer to stress? Prayer. Supplication. Thanksgiving.
Don't hesitate to beg of God the things you need in order to survive this as a married couple. Beg him for mercy, grace, patience, and a strong marriage.
And be thankful.
More than that, we rejoice in our sufferings, knowing that suffering produces endurance, and endurance produces character, and character produces hope, and hope does not put us to shame, because God's love has been poured into our hearts through the Holy Spirit who has been given to us. Romans 5:3-5
I can speak from experience that suffering truly does produce endurance and character and hope and an understanding of the Holy Spirit unlike anything I had experienced before. Our daughter's death brought tremendous heartache and tremendous blessing alike. My husband and I shared both the heartache and the blessings.
I want to tell you something very personal. A few months after Emily's death, I had a very strange dream one night. I dreamed my husband and I got a divorce. I was preparing to remarry (in my dream) when I realized there was no other person on this earth who understood my heart better than my husband. There would never be another person who could share our daughter's death in such an intimate way as him. I realized it was foolish for me to leave that behind.
That dream was a gift. It was the realization that no matter how difficult my grief was to navigate, God did not leave me here to struggle through it alone. There are still many mornings when I wake up and remember our little fuzzy-haired daughter lying between us, smiling and pulling her daddy's ear and there are many mornings when I wake up and remember our daughter's lifeless body in my husband's arms as I tucked her hair behind her ear. She was ours and what we share is much too important to be the thing that comes between us.
Have you or someone you know suffered the loss a child? I invite you to visit
The Grieving Mother
page on Raising Arrows where you will find resources and articles to bring comfort and healing in the name of Jesus Christ, our Lord and Savior.
Amy Roberts of RaisingArrows.net has been married 17 years to her high school sweetheart, Ty, and is blessed to be the homeschooling mother of 7 living children and one precious little girl named Emily being held in the Lord's arms. As a conference speaker and author of several homeschooling and homemaking ebooks, it is her deepest desire to encourage moms in the trenches to stay focused on what truly matters and live a life of abundant blessings in Christ.
Your Turn to Share:
Wow! Wasn't that powerful?!? I trust it touched your heart as much as it did mine! I encourage you to share from your heart by leaving a comment
here on my blog or over on my Facebook page, so we might all be encouraged!
If you were blessed or encouraged by this post, please consider sharing it with your friends on Facebook or other social media sites. Thank you!
Link up:
I'd love to have you link up your blog to mine! Please link up any past or present posts related to Christian marriage.
Don't forget to link back to my blog! Thanks!
Blogs I link up with from week to week: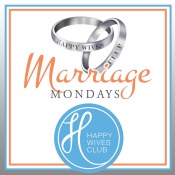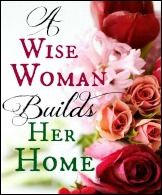 http://judithwholeheartedhome.com/wholehearted-wednesday-linkup/
Please link up your blog post on marriage below by entering the url of your specific post. Where it says "Your Name" enter the title of your blog post, not your personal name! Thanks! :)