Welcome back to
Marriage Monday
! I'm so glad you've joined me as we focus on strengthening and promoting godly marriages, both in our land and in our own backyards!
I hope you had a chance to read my post from last week, where I talked about The Abiding Wife. If not, you can click here to read that post.
Today I want to talk about the Respectful Wife. You may have seen my recent posts on teaching our children respect here and here. In those posts, I shared how we taught our children to be respectful and listed 20 ways to treat our children with respect, and then followed that by sharing a list of people whom we are commanded to honor in the Bible.
In my first post, I explained that one of the prerequisites for teaching our children to be respectful is to build our homes on a foundation of mutual respect and then to model that attribute for our children.
Let me restate it this way, if we want our children to treat us with respect, then they need to observe us treating our husbands with respect. This is a pretty convenient arrangement, too, since respect is a man's greatest need! :)
Ephesians 5:33 clearly instructs husbands to love their wives and commands wives to respect their husbands.
So, how can we as wives living in the 21st century demonstrate respect for our husbands?? Here are a few ways to get you started.
20 Ways to Communicate Respect to your Husband:
1. Appreciate him and what he does for you everyday.
2. Have a thankful, joyful spirit.
3. Be content with the standard of living he provides.
4. Encourage him to make the big decisions for the family.
5. Honor his wishes in the little areas as well as the large ones.
6. Praise him for his character and his achievements.
7. Admire him and his good looks and masculine traits.
8.
Respond to his romantic overtures.
9. Listen to him when he is talking.
10. Don't interrupt him when he's talking or finish his stories for him, even if you think you can tell them better! ;)
11. Don't correct him, especially in public or in front of the children.
12. Don't mother him.
13. Believe in him;
encourage his dreams and help him make them a reality.
14. Don't criticize his way of doing things.
15. Don't compare him to other men, real or fictional.
16. Accept his family for whom they are and don't tear them down.
17. Prepare his favorite foods and try to make the meals he dislikes when he is not there.
18. Choose clothes and hairstyles based on his preferences.
19. Keep the house neat and organized.
20. Protect his reputation by being careful what you say about him to others, including in prayer requests.
Your Turn to Share:
Are you a respectful wife? How do you demonstrate respect to your husband? Please leave a comment here on my blog or over on my
Facebook page, so we might all be encouraged! You may also email me at elizabeth@yestheyareallours.com.
If you were blessed or encouraged by this post, please consider sharing it with your friends on Facebook or other social media sites. Thank you!
Link up:

I'd love to have you link up your blog to mine! Please link up any past or present posts related to Christian marriage. Don't forget to link back to my blog! Thanks!
Blogs I link up with from week to week: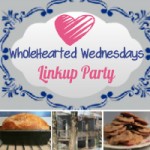 Please link up your blog post on marriage below by entering the url of your specific post. Where it says "Your Name" enter the title of your blog post, not your personal name! Thanks! :)