Welcome back to
Marriage Monday
! I'm so glad you've joined me as we focus on strengthening and promoting godly marriages, both in our nation and in our own backyards!
I started off the year sharing some thoughts on being an Abiding Wife. Then, last week I wrote about the importance of being a
Respectful Wife. I plan to continue exploring different aspects of being a godly wife in the weeks ahead.
Today I want to talk about the Accepting Wife.
One of the most life-changing, freeing things we can do for our marriages is to just accept our husbands for who they are and quit trying to change them! This one shift in thinking will take a burden off both the husband and the wife! You will no longer be trying to figure out how you can change him, and you won't be weighed down with the burden of having to "fix" your husband and make him be more like you. On the other hand, he will no longer be living under the weight of your disapproval and condemnation. You will both be so much freer and happier!
God designed marriage to be between a man and a woman. He also created men and women to be different in a variety of ways, beyond the obvious physical differences. These differences complement each other, but at times, they can also be annoying! It is so important that we recognize that our husbands are men, first of all, which means they are likely to approach things in a totally different manner than we would. They are also individuals, uniquely designed with their own tastes, preferences, habits, idiosyncrasies, likes and dislikes, strengths and weaknesses. It was probably some of those unique characteristics that first attracted us to our husbands. But, somewhere along the line, they can begin to annoy us and we set out to change our husbands' habits, preferences, beliefs, and unique ways of doing things. This is almost always a recipe for disaster!!
When we try to change our husbands, we rarely succeed, and even if we do, they end up resenting us for it. Either way, our desire to change our husbands to fit our mold leaves our husbands feeling rejected, unrespected and unloved.
If your husband is cold and excessively critical of you, choosing to spend more and more time away from home, and becoming more withdrawn and silent, rarely confiding in you, it is likely that he is reacting (whether consciously or subconsciously) to your attempts to change him and is withdrawing from you. This is a wake-up call!
Attempting to change our husbands to fit our own little molds of what is acceptable behavior just pushes them away from us!
The secret to a happy marriage is to accept our husbands exactly the way they are and to tell them so! This means accepting their habits, their preferences, their tastebuds, their looks, their body builds, their dreams, their beliefs, their intelligence, their abilities or lack thereof, their assets and their flaws. It means accepting them just the way they are, warts and all! It means putting on our "rose-colored glasses" and focusing on their admirable traits, and letting their less than stellar qualities be blurred in the background.
If there are real issues of concern, we can certainly pray about them, asking God to change our husbands if He sees a need. (God has a much better track record than we do!) Sometimes God has a plan for our husbands' faults -- it's called our sanctification! In other words, his habits may grate on our nerves like sandpaper, but when sandpaper is applied to wood, it removes the rough spots and makes it silky smooth!
Certainly, there are times to sit down and approach our husbands respectfully about things they may be doing that hurt us or offend us or make our lives more difficult. If we are generally respectful and accepting of our guys, it is likely they will try to change in those areas to please us. Or perhaps not. ;) Either way, we need to accept them as they are, praying for grace where needed!
Disclaimer: I do want to mention what to me is obvious -- this does not include accepting unfaithfulness or abuse. In such cases, wives need to stand firm on God's Word, seek help from trusted friends or godly mentors, or even contact the appropriate authorities.
Your Turn to Share:
Are you a reformed husband changer? :) I'd love to hear how you've learned to just accept your husband for who he is and quit trying to change him. Please leave a comment here on my blog or over on my
Facebook page, so we might all be encouraged! You may also email me at elizabeth@yestheyareallours.com if you wish to share a private testimony.
If you were blessed or encouraged by this post, please consider sharing it with your friends on Facebook or other social media sites. Thank you!
Link up:

I'd love to have you link up your blog to mine! Please link up any past or present posts related to Christian marriage. Don't forget to link back to my blog! Thanks!
Blogs I link up with from week to week: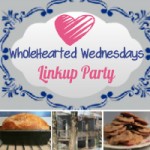 Please link up your blog post on marriage below by entering the url of your specific post. Where it says "Your Name" enter the title of your blog post, not your personal name! Thanks! :)