Welcome back to
Marriage Monday
! I'm so glad you've joined me as we focus on strengthening and promoting godly marriages, both in our nation and in our own backyards.
Since the beginning of the year we've been looking at various characteristics of the godly wife. Last week I focused on the homeworking wife and I'm not quite ready to move on. Today I'm going to continue to share some thoughts about the homeworking wife. If you missed last week's post, you might want to start by reading it first to understand my perspective.
One of the key scriptural passages that explains a woman's role and highlights her calling is Titus 2:4-5:
That they may teach the young women to be sober, to love their husbands, to love their children, to be discreet, chaste, keepers at home, good, obedient to their own husbands, that the word of God be not blasphemed.
As we learned last week, the phrase "keepers at home," is translated "workers at home" in some other versions of the Bible. In the Greek this phrase is one word, oikourgos, which comes from two root words: Oikos, which means "a dwelling, a home, or a household," and ergon which means "to work or be employed." Thus, a homeworking wife.
Many women express frustration because they confess that they long to be a "homeworking wife," but they are forced out of the home and into the workplace by financial pressures from our two-income society. (I find it ironic that the feminist movement was promoted to "free" women from the "shackles" and "drudgery" of being stuck at home, while it has in reality enslaved many women to thankless jobs who would love the freedom of being home with their children and setting their own schedules.)
A new generation of women are discovering that they can have "the best of both worlds" by earning an income from home.
This is the model we see demonstrated by the Virtuous Woman of Proverbs 31. She was always busy at home, producing things for her family, and eventually this led to her producing items to sell to others:
She makes linen garments and sells
them
,
and supplies sashes for the merchants. (v. 24)
She considers a field and buys it; f
rom her profits she plants a vineyard. (v. 16)
She perceives that her merchandise is good, a
nd her lamp does not go out by night. (v. 18)
Having a home-based business requires a lot of hard work, initiative, diligence, balancing of competing demands on one's time, prioritizing, and good management skills. Incidentally, all of these skills are developed by a committed home manager and mother!
Interestingly, women have been starting businesses at a higher rate than men for the last 20 years and tend to create home-based and small businesses. Women will create over half of the 9.72 million new small business jobs expected to be created by 2018 and more and more are doing this from home offices across the country.
Source
According to an interesting article I read in Forbes Magazine, entitled, Entrepreneurship is The New Women's Movement, "A quiet revolution is taking shape right now among women. Unlike the Quiet Revolution
that began in the 1970s which saw women leave the home and enter the workforce in droves, women today are leaving the workforce in droves in favor of being at home. But unlike generations of women before, these women are opting to work in the home not as homemakers—but as job-making entrepreneurs." Source
I believe that many women today have the drive, the determination and the diligence to do both -- to be workers at home who are bringing in an income to help the family while also "looking well to the ways of their household." (Proverbs 31:27). A truly wise female entrepreneur will remember her priorities (if she is married and has a family) and will not disregard her homemaking role, but will commit to loving and serving her husband, training up her children in the ways of righteousness, and managing her home, in addition to managing her business. It's a big job . . . and she may have to learn to delegate some tasks or even hire help with some of her chores to get it all done. Most successful homeworking women learn how to involve their children in both the work of the home and the work of their businesses, which is beneficial all the way around.
The average woman of today has many advantages over the ideal wife of Proverbs 31. She has an abundance of labor saving devices at her disposal and she has the Internet, social media and her smart phone -- all at her fingertips, enabling her to run a plethora of successful businesses from her home . . . or anywhere!
If you'd like to start your own business from home, the first thing to do is pray about it. Seek the Lord and consult with your husband. Once you have his blessing, start praying about what business would be right for you. Consider your passions, your burdens, your interests. Basically, you can offer a product or a service. You can design, create and market your own products, or you can sell products created by someone else at craft shows and festivals, through home parties or demonstrations, or online via a website or etsy shop. You can also provide a service either to individuals or to businesses.
One way to find your special niche, according to Mary Pride, in All the Way Home, is to look for what is not being done or what is being done badly, and then find a way to provide that skill for a reasonable price and with excellence.
Mary's
tips for success include:
Start Small and Go Slow.
Be Generous.
Reinvest in your Business.
And I would add to that -- Invest in Yourself through training and personal growth.
Need some inspiration? Here are a few ideas to get your creative juices flowing!
My friend Melissa has a knack for buying items at thrift stores and selling them for a significant profit on eBay.
Crystal Paine of Money Making Mom has built an entire business around helping other moms learn to coupon, find the best buy, and live on less.
Caroline Allen of The Modest Mom discovered a need for fashionable, modest clothing and decided to fill it. She operates Deborah & Co, which is a source for fun, feminine, modest clothing for girls, women, and maternity.
My friend, Trisch, helps women get "fit and fabulous in just 15 minutes a day" using the T-Tapp at-home fitness program. She is a certified T-Tapp trainer, and can set you up with a workout schedule and offer form suggestions through Skype sessions! You can connect with her through her blog.
My good friend Lori has always been an entrepreneur. In recent years, she ran a used homeschool curriculum business and she now sells
Lemongrass Spa
,
among other things.
My pastor's wife teaches voice lessons and sign language classes from her home and she recently signed up to sell
Mary Kay Cosmetics
,
a classic business for women.
In the last few weeks, I've learned of a mother-daughter team who creates beautiful baby items and sells them through their Etsy shop. Check out
LaDiDa Baby
!
(Review and Giveaway coming!!)
My friend, Donna, operates Character Ink, a cottage industry that focuses on the development of integrated language arts curricula, the teaching of cottage classes, the writing of parenting books and a blog, and the promotion of character instruction and the discipleship model for a lifestyle approach to homeschooling.
Blogging can be a hobby, or a money-making endeavor. June Fuentes of
A Wise Woman Builds Her Home
is one homeworking mother who has taken blogging to the next level! She offers consultations to help you learn to make money with your blog. Click
here
to learn how your blog can make money.
For me personally, I've always had more than I could handle just trying to keep up with my home and homeschooling my large family!! However, I have reached the season of life where my load is lightening. Two years ago I decided to dive into the direct sales world when I became an Independent Consultant for Lilla Rose. I have had so much fun selling hair jewelry online and locally at various festivals and vendor shows!
In the last month, I've taken on a new opportunity. I am now an Ambassador with Plexus Worldwide, which is an amazing health and wellness company, best known for their "pink drink" - Plexus Slim. I'm astounded by the testimonies I'm reading daily from people whose lives have been changed by this company's remarkable products and generous compensation plan.
What about you? Are you a busy homeworking wife and mother? Have you found ways to save and or earn money for your family as you work hard at home?
All of the posts in this series have been designed to help you build your marriage and to be a strong, confident, suitable helpmeet who is an asset to your husband. Which one was your favorite?
The Abiding Wife
The Respectful Wife
The Accepting Wife
The Admiring Wife
The Supportive Wife
The Humble Wife
The Grateful Wife
The Joyful Wife
The Content Wife
The Trustworthy Wife
The Kind Wife
The Sympathetic Wife
The Pure Wife
The Serene Wife
The Celebrating Wife
The Wise Wife
The Suitable Helper
The Diligent Wife
The Sensible Wife
The Discreet Wife
The Homeworking Wife
Your Turn to Share:
I'd love to hear how you have learned to be a worker from home. Being a homemaker and mother is a full-time job in itself! I'd love to hear any tip you have for keeping your home. If you also have a business, please share your secrets for juggling both a home business and the manangement of your home. Please feel free to leave a link to your home business as well! P
lease leave a comment here on my blog or over on my
Facebook page, so we might all be encouraged! You may also email me at elizabeth@yestheyareallours.com if you wish to share a private testimony.
If you were blessed or encouraged by this post, please consider sharing it with your friends on Facebook or other social media sites. Thank you!
Link up:

I'd love to have you link up your blog to mine! Please link up any past or present posts related to Christian marriage. Don't forget to link back to my blog! Thanks!
Blogs I link up with from week to week: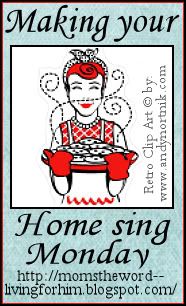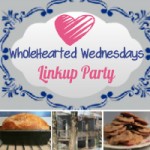 Christian Mommy Blogger
Please link up your blog post on marriage below by entering the url of your specific post. Where it says "Your Name" enter the title of your blog post, not your personal name! Thanks! :)