Welcome back to
Marriage Monday
!
I'm on vacation with my family this week in the mountains of Tennessee, and I've decided to take a semi-blogging break! I won't be posting my regular features so that I can spend more time with my family doing fun things, but I may pop in and share a picture or two during the week, and I do have some special things to remind you about.
1. There is still time to enter my Jamberry Nail Wrap Giveaway! Click Here to enter to win a $25 gift certificate for the nail wraps of your choice!
2. The Homeschool Build-Your-Bundle Sale goes live today and ends on July 28th. Click here to checkout the Build Your Bundle - Homeschool Edition Sale! One Week Only, Save up to 92%!
3. If you've ever considered becoming a Lilla Rose consultant, now is the perfect time to do so! Lilla Rose is offering Free Shipping on all new enrollment orders, now through July 31st! I'd love to have you join my team!!
Click here to learn more about the opportunity
and
click here to sign up as a consultant
.
Back to Marriage Monday:
I hope to continue with my series on the characteristics of the godly wife next Monday! For today, please catch up on any of the posts in this series that you may have missed, and feel free to link up your own marriage related blog post and to visit the posts of others who have linked up!
All of the posts in this series have been designed to help you build your marriage and to be a strong, confident, suitable helpmeet who is an asset to your husband. Which one was your favorite?
The Abiding Wife
The Respectful Wife
The Accepting Wife
The Admiring Wife
The Supportive Wife
The Humble Wife
The Grateful Wife
The Joyful Wife
The Content Wife
The Trustworthy Wife
The Kind Wife
The Sympathetic Wife
The Pure Wife
The Serene Wife
The Celebrating Wife
The Wise Wife
The Suitable Helper
The Diligent Wife
The Sensible Wife
The Discreet Wife
The Homeworking Wife, part 1
The Homeworking Wife, part 2
Your Turn to Share:
I'd love to hear how you have learned to be a worker from home. Being a homemaker and mother is a full-time job in itself! I'd love to hear any tip you have for keeping your home. If you also have a business, please share your secrets for juggling both a home business and the manangement of your home. Please feel free to leave a link to your home business as well! P
lease leave a comment here on my blog or over on my
Facebook page, so we might all be encouraged! You may also email me at elizabeth@yestheyareallours.com if you wish to share a private testimony.
If you were blessed or encouraged by this post, please consider sharing it with your friends on Facebook or other social media sites. Thank you!
Link up:

I'd love to have you link up your blog to mine! Please link up any past or present posts related to Christian marriage. Don't forget to link back to my blog! Thanks!
Blogs I link up with from week to week: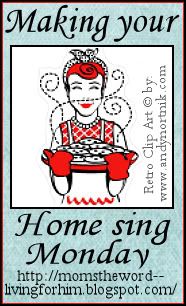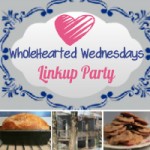 Christian Mommy Blogger
Please link up your blog post on marriage below by entering the url of your specific post. Where it says "Your Name" enter the title of your blog post, not your personal name! Thanks! :)